Writer and director of the short film "Sunday Dinner" — funded by The Film Fund! — answered some of our questions about why he writes and directs.
Don pitched a one-sentence entry that had our judges in stitches, and it also presented a compelling premise and a great use of funds.
The level of commitment and caring that [The Film Fund] has shown not only for me, but many other filmmakers, sets them apart. The Film Fund clearly puts a lot of thought into their blog posts, they're very transparent and easy to communicate with, and they genuinely want to help a filmmaker's vision come to fruition.

Don Fanelli. writer and director of "Sunday Dinner"
"Sunday Dinner" is currently on the festival circuit, so we can't release it online just yet. But for now, you can read our judges' in-depth analysis of his one-sentence pitch.
Stay tuned and subscribe to our updates for the release of "Sunday Dinner."
For a chance to fund awesome projects of your own, submit a pitch with our funding opportunities.
Why do you write, direct, or produce?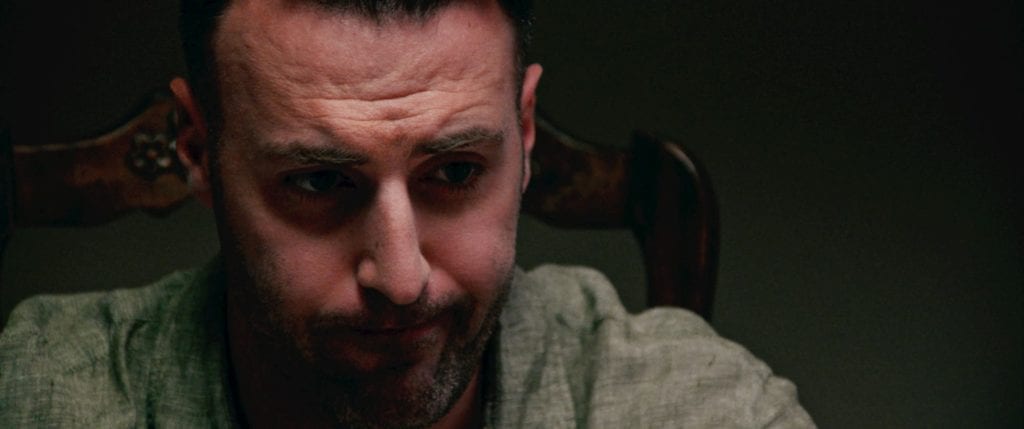 I started writing out of necessity. As an actor and improviser, I was really drawn to the immediate dopamine hit I would get [from] performing live theater. But the business side of acting is very much out of your control. Meaning, you can act all you want, but there is still a gatekeeper when it comes to auditions. And when you do get them, you have to do this magic trick of making someone else's words sound like your own.
So writing was a way to take some of that power back. No one tells you what to write or how long to write for (except with professional opportunities) but I could still express myself and give myself a lifeline to say and do funny things on stage or in front of a camera.
I could also challenge myself to play characters out of my comfort zone, to expand my range while still drawing on my own truth to inspire dialogue. For a long time, as a defense mechanism, I would find myself saying, "Ah, I'm an actor, not a writer." As if to let people know that if my writing is not up to your standards, it's not my fault.
But I had written almost as much as I had acted at that point, especially in the comedy world. Sketch, characters, shorts, digital series — I've written and collaborated on a ton of stuff. But saying I wasn't a writer was just a way to protect myself. Now I can confidently say that I am a writer as well as an actor.
I'm a lot of things. Some things I do better than others, but I'm always trying to learn and improve my craft, and that's the best I can do. I write because, even though it feels like death at times, it's something I can control in a very turbulent industry.
Who are some of your favorite film auteurs, and which of them inspire you the most? How?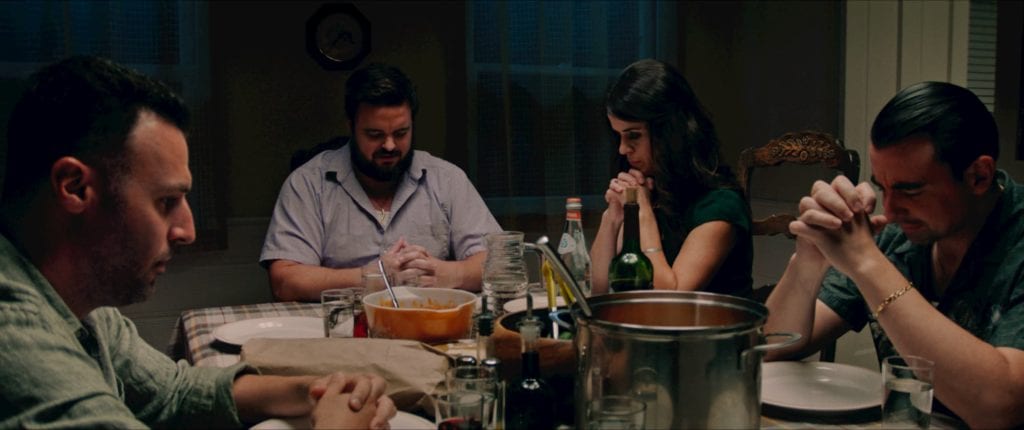 Too many. I'd be foolish not to acknowledge the role that Scorsese and Coppola had on me growing up. Especially being the good ol' North Jersey Italian meatball that I was (am?). Watching Brando, De Niro, and Pacino's performances was church to me. Their level of acting, commitment, and preparation was unmatched. Their active listening was off the charts. They always seemed to be wrestling with some inner dialogue throughout their performances that the director would capture brilliantly.
Scorsese had a style that was free; he told stories in a visceral way and his use of song selection in scenes was always perfect. Which is why I also love Spike Lee. I mean the list goes on: David Lynch, Tarantino, Zhang Yimou, Wes Anderson, Alejandro Iñárritu, Paul Thomas Anderson. I'm attracted to artists who are a little off, yet still accessible.
I'm often more influenced by actors though, like the range of Bobby Cannavale and the genius of Mark Rylance, they are two huge influences on me. When it comes to comedy, I get as much joy out of the absurdism of Tim & Eric as I do the slapstick silliness of Mel Brooks as I do the delightfully deadpan nature of Bill Murray and Harold Ramis. I was heavily influenced by the movies of Jim Carrey and Adam Sandler and I think Robin Williams and Eddie Murphy are kings.
What's your toughest challenge when raising funding for a film project?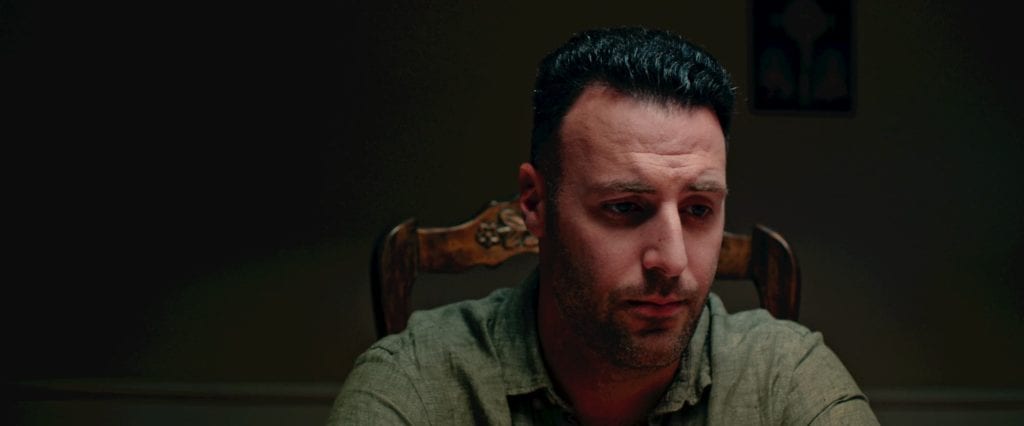 First, convincing myself, before I convince other people, that I deserve it. Some people can ask for money easily; I cannot. I grew up in a household that was more focused on giving than taking, carving your own path rather than asking for help, so the very nature of asking for help and money is a foreign concept. Why me? Why do I deserve this? What if I get some help and the final product doesn't live up to their standards?
I kind of go through all of that in my head first, which motivates me to try and raise my own money before venturing out. It's harder now that I have a family, but I put aside money from acting jobs to use for future projects. I'm not a huge crowd[funding] fan, but I happily give to crowd[funding] projects. It's just not really my thing.
But I needed help with Sunday Dinner, so the second challenge was actually finding the right grants and film funds. I didn't really know where to start, so I asked my producer and then just started googling film funds. I'm pretty sure that's how I found The Film Fund. I think it's good to take your time and really make sure you're asking the right grants/funds that correlate to the type of film you're trying to make, instead of just randomly asking for money from any source.
What do you like about The Film Fund?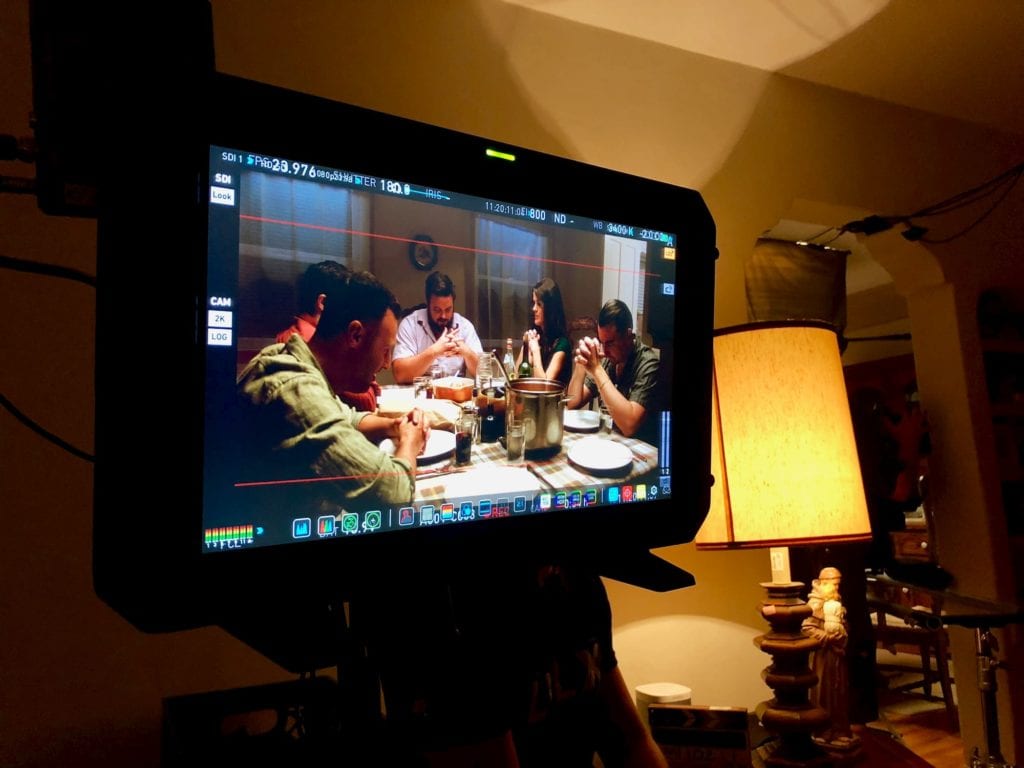 The level of commitment and caring that they've shown not only for me, but many other filmmakers, sets them apart. The Film Fund clearly puts a lot of thought into their blog posts, they're very transparent and easy to communicate with, and they genuinely want to help a filmmaker's vision come to fruition.
They are also extremely generous. Making our film would have been exponentially harder if we did not have their financial and emotional support. Any resource that helps provide opportunities to those that aren't able to provide their own is special and should be celebrated and thanked over and over again. So a million thanks to The Film Fund!
What are you working on right now?
A bunch of things are in the pipeline. My wife and I sold and wrote a movie last year, and we're waiting to see if it will go into production. I have a couple of pitches floating around that I'm waiting to hear back on. Currently I'm writing a pilot based on the characters of Sunday Dinner. I feel like I know them intimately and wanted to see if I could expand on their world and stories.
I just appeared on the show Superstore and continue to audition whenever the audition gods want to see me. I also have a podcast called The Need to Fail where I talk to actors, writers, and other creatives about their setbacks and what keeps them moving forward. Talking to successful people about how they've overcome their failures has brought me (and hopefully others) great solace.
What's your advice for filmmakers who are just starting their careers?
Start making stuff as soon as you can. It doesn't need to be perfect. I had a lot of ideas that I sat on early on in my career that I wish I just made, but I was afraid of it not being perfect. I think volume is more productive than quality when you're first starting out. And your quality will naturally be lacking because your experience is lacking.
Sure, you might be a savant, but those folks are outliers. We all want to be those outliers, but it's totally okay if you aren't. Learning what not to do is sometimes more important than learning what to do. If you work hard, keep finding inspiration from unlikely sources, take chances, and get out of your comfort zone, your quality will improve over time.
There are very easy, cheap ways to tell stories nowadays. Don't focus on followers or fame, focus on experimenting and having fun. Learn when to take a note and when to follow your gut. Immerse yourself in your craft. Learn as much as you can from whoever you can. Fail a lot and often. Embrace the chaos and use the inevitable curveballs. Curveballs are gold. Set attainable goals, but don't get too wrapped up in the future.
Be grateful with what you have and what you are working on now. Ask for help when you need it, and give back whenever you can. Good luck!
---
If you want a chance to get funding like Don did to make "Sunday Dinner," learn more about our funding opportunities here.