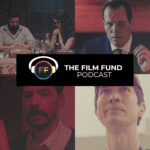 Welcome to The Film Fund Podcast. In this week's episode, we spoke with Chief Marketing Officer of Bucks County Chamber of Commerce and Head of Bucks Fever Film Festival, Brad Sanders.
We spoke to Brad about what the judging panel looks for in submissions, what goes into running a festival, how to get sponsors, how to choose panelists for festival discussions, and more. Tune in for an in-depth discussion that provides some great insights for filmmakers who are looking to enter The Film Fund Contests.
If you'd like to watch the podcast as a video, check it out here:
You can watch one of the panels that features The Film Fund's Thomas Verdi by registering for a virtual Bucks Fever FilmFest account here.
Looking to enter The Film Fund's funding contests? Click here.
Music: Equinox by Purrple Cat | https://purrplecat.com/ Music promoted by https://www.free-stock-music.com/ Creative Commons Attribution-ShareAlike 3.0 Unported https://creativecommons.org/licenses