Stefan Prosky and Tom Sims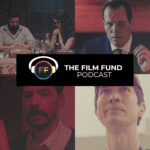 Welcome to The Film Fund Podcast. In this week's episode, we spoke with filmmakers and film festival directors Stefan Prosky and Tom Sims. Stefan and Tom organized the Cape May Film Festival in New Jersey for many years, which is now growing into a bigger event called Exit Zero Media Fest! Stefan and Tom are also talented filmmakers, and Stefan worked at Nickelodeon in animation working on SpongeBob commercials!

We spoke to Tom and Stefan about their experience running a film festival, life as a filmmaker, the judging process, and more. Tune in for an in-depth discussion that provides some great insights for filmmakers who are looking to enter The Film Fund Contests. Looking to enter The Film Fund's funding contests? Click here: www.thefilmfund.co/contests/

Want to watch the video version of the podcast? Check it out below!