The Film Fund Podcast: Sarah Young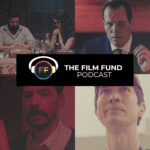 Welcome to The Film Fund Podcast. In this week's episode, we have The Film Fund Contest Winner, Sarah Young.
We spoke to Sarah about her winning pitch, what she likes about The Film Fund, her experiences as a filmmaker, and more. Tune in for an in-depth discussion that provides some great insights for filmmakers who are looking to enter The Film Fund Contests.
Hosted by: Thomas Verdi
Directed by: Thomas Verdi
Written by: Thomas Ranieri
Executive Producer: Thomas Verdi
Producer: Thomas Ranieri
Music: Equinox by Purrple Cat | https://purrplecat.com/ Music promoted by https://www.free-stock-music.com/ Creative Commons Attribution-ShareAlike 3.0 Unported https://creativecommons.org/licenses/…