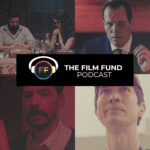 Want to Watch? Click Below
Welcome to The Film Fund Podcast. In this week's episode, we have a profile of Thomas Verdi, Founder and Executive Producer at The Film Fund.
Thomas talks about how and why he started The Film Fund, his own experience as a filmmaker both in the corporate and independent worlds, and how he's just like everyone else in The Film Fund community trying to get his projects made. Tune in for an in-depth discussion that provides some great insights for filmmakers who are currently working on their own projects.
Hosted by: Thomas Verdi
Directed by: Thomas Verdi
Written by: Thomas Ranieri
Executive Producer: Thomas Verdi
Producer: Thomas Ranieri
Music: Equinox by Purrple Cat | https://purrplecat.com/ Music promoted by https://www.free-stock-music.com/ Creative Commons Attribution-ShareAlike 3.0 Unported https://creativecommons.org/licenses/…