COVID-19 has changed the game for independent filmmakers everywhere. As we approach herd immunity, there seems to be some light at the end of the tunnel when it comes to the world of film festivals returning to normality. However, in the meantime, you should not miss out on the opportunity to submit your film to online film festivals.
How Film Festivals Have Adapted to COVID-19
Some of the world's biggest and most important film festivals, like Cannes and Telluride, were canceled altogether last year. Meanwhile, some others, like Toronto International Film Festival, New York Festival Film Festival, and Berlin International Film Festival, made their first-ever shift to fully online festivals in 2020 and early 2021. The online film festival experience isn't preferable for everyone, but there are still many reasons to put in for online film festivals. After all, geographical distance is no longer a limitation online.
Why You Should Enter Online Film Festivals
Online film festivals are a great way to introduce your film to the world. Like any other form of film distribution, film festivals put an audience in front of your work. Once your film is selected to screen at one festival, other film festivals take notice and might be more likely to select you for their film festivals as well. Getting selected for a film festival is a great addition to your resume. More importantly, you can use it as part of the marketing campaign for your film. Putting laurels for film festivals your film was selected for on your film poster really does make a difference. Winning an award at a film festival is even better with regard to this.
Another benefit of submitting your film to online film festivals is for the awards. Depending on the size of the festival, you have the opportunity to win a good amount of film gear and considerable cash prizes. If streaming services take notice of your film, you may even get film distribution on their platforms.
One of the main reasons why filmmakers attend film festivals has always been to network with connected people in the industry. At online film festivals, networking is not quite as simple as walking up to individuals, sparking a conversation, and eventually exchanging contact information. However, by submitting your film to online film festivals and getting selected, you could very well attract the attention of powerful or connected professionals, or even just people you think you could collaborate with in the future.
Even if you don't make any useful connections, you may get feedback from film festival judges or attendees that will help you know what works in your films and what should be improved going forward. Q&A sessions are one of the best opportunities you will ever get to gauge audience reactions to your film. An audience member might tell you that your film was incredibly moving or downright hilarious (depending on the genre), and ask how you were able to get it done. Alternatively, an audience member might ask you to clarify something that he or she found confusing, which might inspire you to go back and improve your film in the future. Either way, attending Q&As is a crucial learning experience.
Currently, Q&As are being held over Zoom. Zoom Q&As can be just as informative as regular ones. Make sure to attend Q&As not just for yourself, but for other filmmakers as well, at whichever virtual film festivals you attend. You can ask filmmakers questions, or simply sit back and listen, in order to hear answers that may help you improve your skills as a filmmaker yourself.
How to Enter Online Film Festivals
The first thing you should do if you want to enter virtual online film festivals is making an account with the website FilmFreeway. FilmFreeway is a submission platform associated with over 10,000 film festivals all over not just the United States, but the entire world. 173 of these film festivals are Academy Award accredited festivals.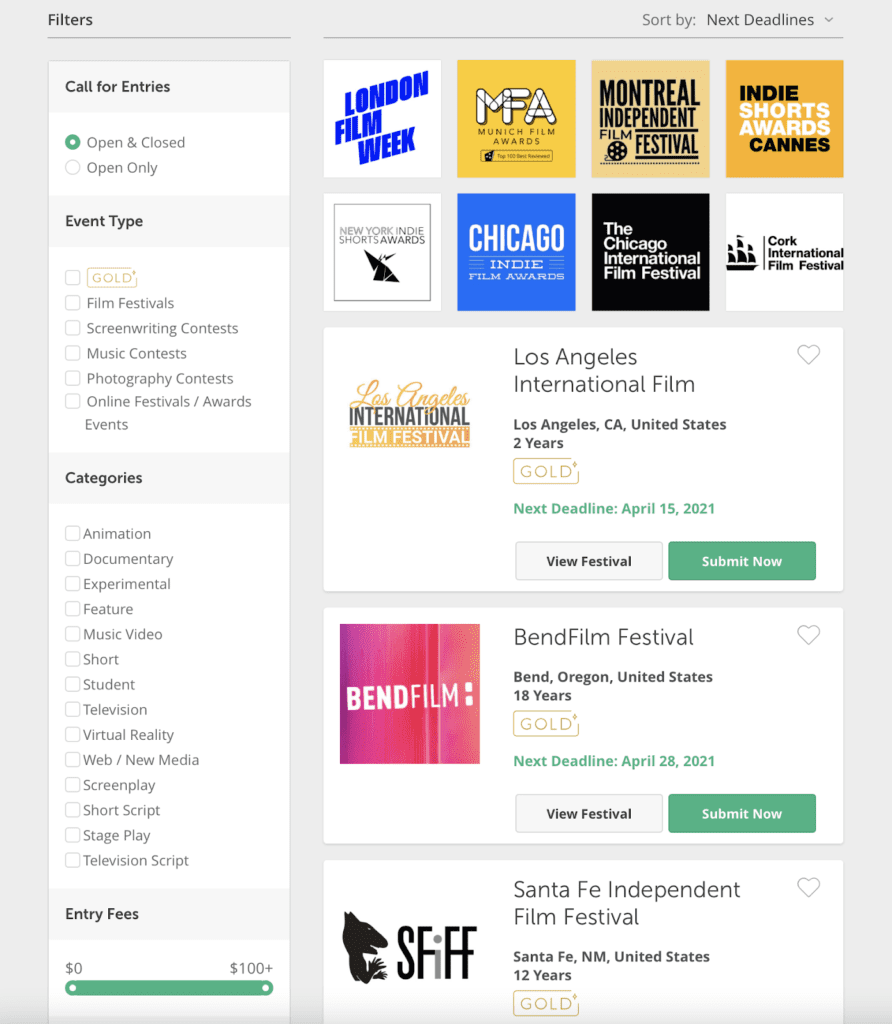 FilmFreeway charges 4 to 6% fees on film festivals that use FilmFreeway as the exclusive submission method. However, for events that don't charge entry fees, you won't have to pay any fees to FilmFreeway at all.
If you'd like to learn how you can enter film festivals totally free of charge, without fee waivers, you can read more about that here.
On FilmFreeway, you can search for film festivals based on the category of film, entry fee amount, the amount of time the film festival has been in operation, the required project runtime, the festival focus, the region (which is not always particularly relevant if you are submitting to online film festivals), the entry deadline, and the event date. The vast majority of film festivals accept short films, so it won't be too often that you run into the problem of being ineligible to submit your film on those grounds.
Tips for Entering Online Film Festivals
Film festivals will often have multiple deadlines. Some festivals may have as many as five: an early bird deadline, an early deadline, a regular deadline, a late deadline, and a final deadline. Some may have even more deadlines than that. Usually, as the deadline gets later and later, the entry fee will get higher and higher. Also, when you submit your film to an early deadline, your chance of getting accepted into the film festival is much higher, since it's much easier for those in charge of the festival to build a schedule around your film than for them to insert your film into an existing lineup.
As always, make sure your film has an excellent logline. A great logline can prime film festival judges to have an extra interest in your film before they even watch it. If you were already selected for film distribution at a virtual film festival, a great logline will inspire festival attendees to show up to your designated film showing. You can read more about how to make sure your film has the perfect logline here.
Finally, you should submit your film to the right festivals. Regardless of what type of film you made, you should usually enter yourself into festivals that have been around for a few years in order to make sure that they are legitimate. You should also enter your film not just into the biggest festivals since those can be extremely competitive and may accept as few as one percent of submissions. Try to submit your film to at least a few online film festivals that are mid-level (so you have a higher chance of getting accepted) or ones that fit a particular niche that your film satisfies.
Your options for submitting to film festivals are very broad. Many film festival submission rules are laxer than ever. For example, the Tribeca Film Festival has just allowed, for the first time, the submission of projects that premiered online as part of a limited festival screening, or projects that were previously invited to other festivals that were subsequently canceled.
Examples of Online Film Festival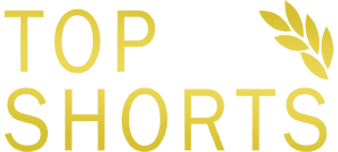 One virtual film festival to keep in mind is Top Shorts. This film festival, one of the best-reviewed festivals on FilmFreeway, is specifically designed for short films.
Another highly-reviewed virtual film festival is the Vegas Movie Festival. It has only been in operation for three years so far, but it has already awarded Academy Award, Golden Globes, EMMYS, and BAFTA-winning actors and directors, along with filmmakers from all over the world.
Both of these virtual film festivals, along with others like the Montreal Independent Film Festival, have about 60 categories each and offer monthly competitions that lead up to an annual competition, for both scripts and films.
Some film festivals set for the remainder of 2021 into early 2022 are planning on having in-person and online events simultaneously. This could be a permanent – and positive – impact of COVID-19 on film festivals. Film distribution doesn't have to be limited to only in-person audiences anymore.
The 2021 Tribeca Film Festival is one example of this. The deadline for Tribeca submissions has passed, but you are still welcome to attend the online aspect of this iconic festival this June as a spectator. Provincetown Film Festival, also a planned hybrid event, will take place around the same time. International film festivals that are jumping on the hybrid bandwagon this summer include Locarno Film Festival and Sydney Film Festival.
These are all just a few examples.
Conclusion
COVID-19 has turned the world of film festivals upside down for the past year. However, you still have plenty of chances to get film distribution. If you have the chance, make sure to submit to as many film festivals as you can.
If you need the funds to work on your project or to submit it to online film festivals, then check out our funding opportunities for the chance to win up to $10,000.